FARRELL NEWS ALERT: SECTION 179 REMAINS $500,000 FOR 2017
Section 179 for 2017 Tax Year Remains At $500,000
Section 179 can provide you with significant tax relief for this 2017 tax year, but equipment and software must be financed and in place by midnight December 31, 2017. Use this 2017 Section 179 Calculator to see how much the Section 179 tax deduction can save your company.
Thanks to the new guidelines under IRS Section 179 IRS tax code, many small businesses that invest in new equipment can now write off up to $500,000 of these purchases on their 2017 IRS tax returns. Normally, businesses spread these deductions over several years. But now, with the tax benefits provided under IRS Section 179, many small businesses can write-off up to the entire purchase cost of qualifying new construction equipment and tools. Again that's up to $500,000 worth, all in the first year they are placed in service.
Not much time left:
For the tax year 2017, the qualifying purchases must be placed into service between January 1, 2017 and December 31, 2017.
What qualifies:
Section 179 was designed with businesses in mind. That's why almost all types of "business equipment" that your company buys or finances qualifies for the Section 179 deduction. See qualifying equipment here.
All businesses need equipment on an ongoing basis, be it machinery, computers, software, office furniture, vehicles, or other tangible goods. It's very likely that your business will purchase many of these goods during the year, and will do so again and again. Section 179 is designed to make purchasing that equipment during this calendar year financially attractive.
Always consult your tax professional.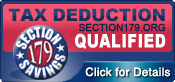 http://www.section179.org/index.html